Indonesian field hospital treats thousands in quake-hit Türkiye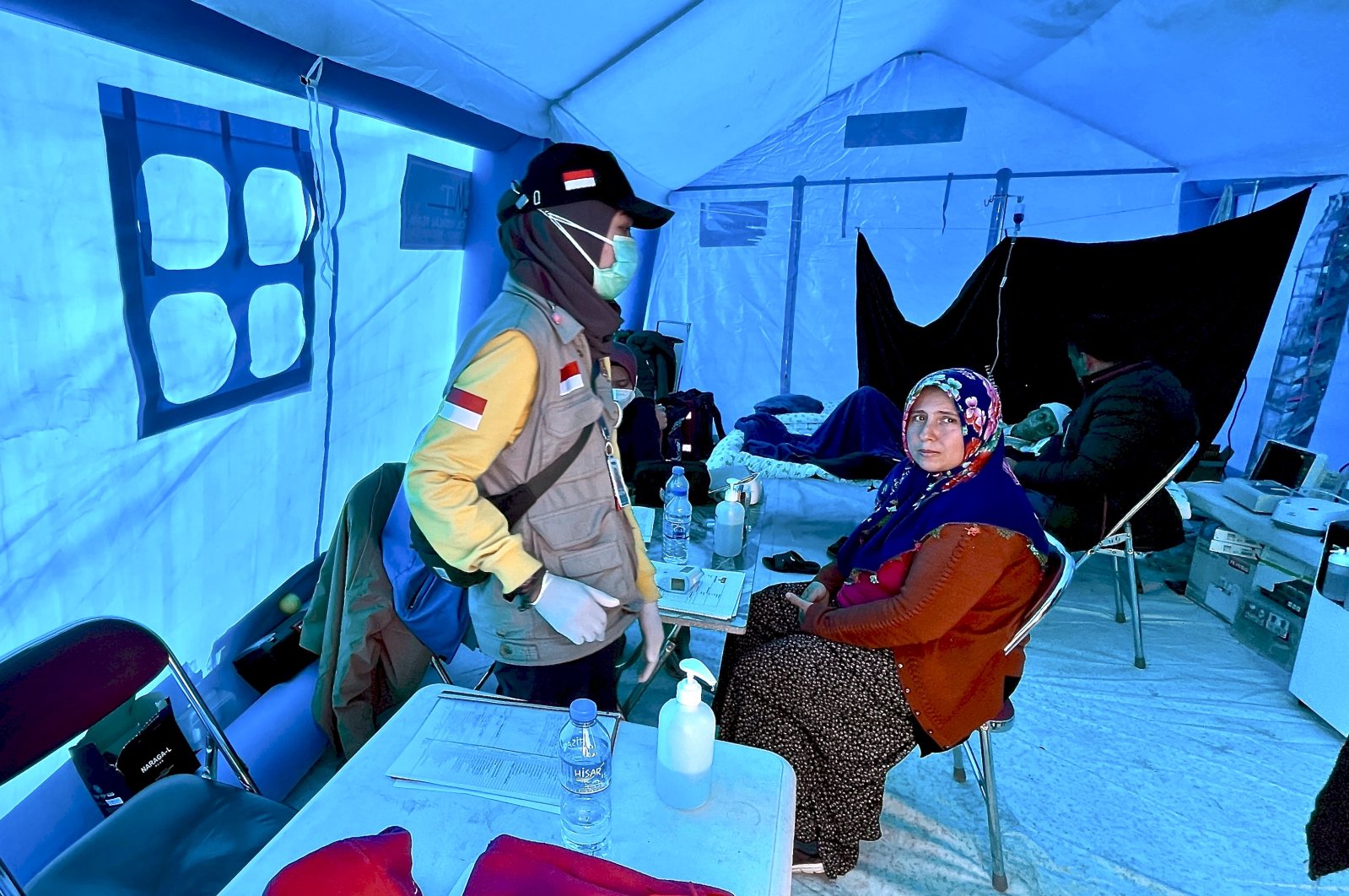 A field hospital set up by the Indonesian Emergency Medical Team (Ina-EMT) has reportedly served more than 2,000 patients in Türkiye's Hatay province since arriving on Feb. 15 following the devastating earthquakes, the country's embassy in Türkiye announced Monday.
Patients from around the city's Hassa district flocked to the field hospital for treatment, according to the embassy's statement.
The Ina-EMT facility, with an estimated capacity of around 150 people daily, is currently serving around 200 patients every day.
State institutions, nongovernmental organizations (NGOs) and volunteers across the globe, including Indonesia, have been mobilizing nonstop to deliver humanitarian aid and relief to help heal wounds in 11 Turkish cities struck by 7.7 and 7.6 magnitude tremors since Feb. 6.
More than 44,000 people were killed and at least 108,000 others have been injured in the disaster.
"(Some) 70% of patients come to Ina-EMT with complaints of respiratory problems," Dr. Corona Rintawan, the deputy head of the medical crew, said. "Maybe due to weather, shelter conditions and dust due to the process of dismantling debris which is still ongoing."
While subject to an official schedule, in practice, the hospital accepts anyone who visits outside of the scheduled time, enabling health services for patients from more remote locations and those who work in emergency response activities during the day.
Ina-EMT officers and doctors will officially end their emergency medical mission on Feb. 27, 2023, however, the crew plans to transfer its management to Turkish authorities.
"All field hospitals will be donated to the Turkish Health Ministry which will continue operations with Turkish officers and doctors for the next three months," said Lalu Muhamad Iqbal, the Indonesian ambassador to Türkiye.
"They have recorded data and will add ambulances and the necessary medical equipment," Iqbal explained.
The Indonesian Field Hospital Complex that will be handed over to the Turkish ministry consists of 18 service tents, as well as some 11 large support tents.
The Ina-EMT hospital in Hassa is one of the nine from other countries operating in Hatay, which took some of the heaviest damage in the tremors.
Ina-EMT is well-known in the resident community not only for the vast range of services it offers, such as mental health treatments and individualized logistical support from Indonesia's National Agency for Disaster Countermeasure (BNPB) but also for its friendly service, the embassy noted.
Indonesia has supplied lifesaving support to Türkiye in the wake of the disaster, deploying its largest humanitarian mission to a country in its history, involving more than 250 personnel, five humanitarian flights, more than 110 tons of humanitarian goods, 50 containers of instant food supply, one field hospital, and two shared kitchens serving 24 hours a day.
Source: daily sabah