Indonesia police have arrested a village shaman accused of killing at least 12 people after several bodies were found buried in the man's garden.
Slamet Tohari, 45, admitted to police that dozens of victims were interred on his land.
He has been charged with the premediated murder of clients at his home in Banjarnegara in Central Java.
Police said he promised to magically multiply money and when clients wanted their cash back, he poisoned them.
He was arrested this week after the son of his most recent alleged victim told police Tohari's home had been his father's last known location.
Paryanto's family had been unable to contact him since 24 March.
He told his son his location via a WhatsApp message and asked him to notify the police if he did not return by 26 March. A police report was made the following day.
Authorities then went to Tohari's home in Desa Balun village, Wanayasa district on Monday, where they discovered several shallow graves at a nearby site.
Some graves had two to three victims buried together. A bottle of mineral water was also found in each grave.
Police say the victims were aged between 25 and 50 years, and some had been buried for six months. Their bodies did not show any signs of violence.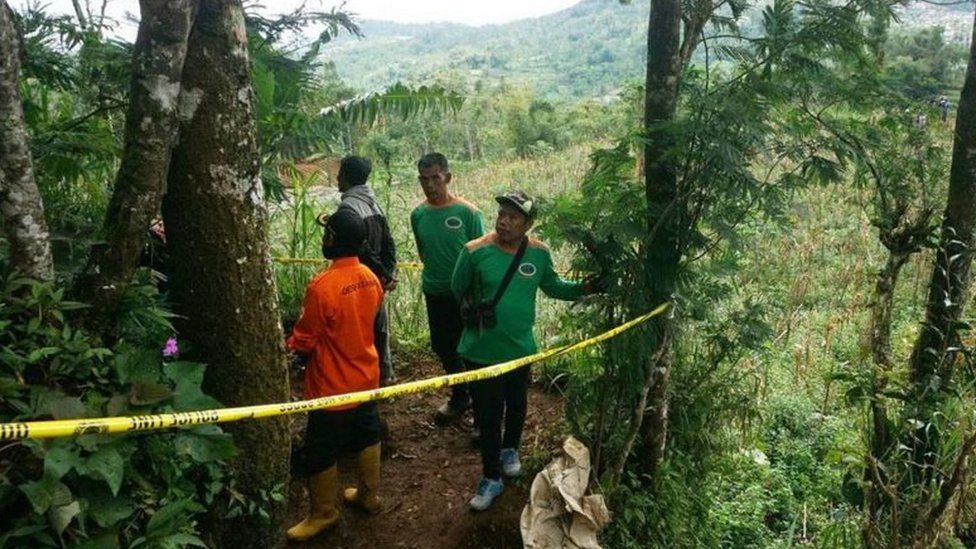 It's unclear if those bodies have been identified. Police did not offer information on whether there had been existing investigations into those cases.
Tohari has not denied the killings. He was previously jailed in 2019 for counterfeit money crimes and he faces the death penalty on the current charges.
Police said he modelled himself as a shaman, Mbah Slamet (Grandpa Slamet), who could multiply 70m rupiah (£3,755; $4,683) into 5b rupiah.
They believed Tohari had been killing his victims since 2020.
Police said he lured his victims to his house for a daytime ritual, where he would then feed them drinks mixed with potassium cyanide and a sedative.
Police also detained an accomplice who was promoting money multiplying services on social media. However Tohari said he had largely acted alone.
Experts told the BBC that money multiplying scams are common in Indonesia, with many social media posts advertising such services.
They have been successful because community beliefs in the occult remain strong in the country.
Sociologist Imam Prasodjo of the University of Indonesia told the BBC that it takes time to educate people about these scams, and that police must act more quickly against them.
Source : BBC