ISLAMABAD — The chief diplomat of Afghanistan's ruling Taliban insisted Monday that his government had not banned girls' education "permanently," while women continue to work in different sectors across the country.
Taliban Foreign Minister Amir Khan Muttaqi addressed a seminar in Pakistan's capital, Islamabad, to wrap up a four-day official visit to the neighboring country, where he also attended a trilateral dialogue with his Chinese and Pakistani counterparts.
"We have 10 million students currently attending primary-level and university-level education [in Afghanistan]. Nine million can access all forms of education. They include girls up to grade six. Around 300,000 teachers, including 92,000 females, teach in these institutions," he said.
The hardline Islamist group reclaimed control of the country in August 2021 when the United States and NATO withdrew their troops after almost two decades of involvement in the Afghan war. The Taliban have since imposed their strict version of Islamic law or Sharia to run the impoverished, war-torn South Asian nation.

Many Afghan women, including those working for the United Nations and non-governmental groups, have been blocked from accessing work and public places.
The Taliban have rejected international demands to remove restrictions on women as interference in Afghanistan's internal affairs.

Still in his remarks Monday, Muttaqi insisted that thousands of female doctors and nurses are working in health business sectors. Girls and women are attending madrasas (Islamic seminaries) and even teaching there.
"We have never said that female education is un-Islamic or banned permanently in Afghanistan. The decree clearly stated that female education is suspended until further notice," Muttaqi said.

He referred to the edict issued by the reclusive Taliban chief, Hibatullah Akhundzada, last year that prohibited young girls from attending schools beyond the sixth grade and subsequently suspended female students from accessing university classes.

"We have made progress on this issue to a large extent, and the government of Afghanistan will continue to make efforts to resolve the remaining problems about this issue amicably," Muttaqi said without elaborating.

A team of U.N. experts on human rights concluded an eight-day mission to the country last Friday, reporting an unprecedented "extreme situation of institutionalized gender-based discrimination" in Afghanistan.

"We are deeply concerned about the apparent perpetration in Afghanistan of gender persecution — a systematic and grave human rights violation and a crime against humanity," the mission said in its preliminary findings. It noted Taliban authorities, in meetings with the U.N. team, had reiterated that they were working on the reopening of girls' schools but did not provide a clear timeline.

Trilateral talks

Muttaqi, who faces U.N. travel sanctions, was given a waiver to make the visit to Islamabad to attend on Saturday a trilateral meeting with Chinese Foreign Minister Qin Gang and Pakistani Foreign Minister Bilawal Bhutto Zardari.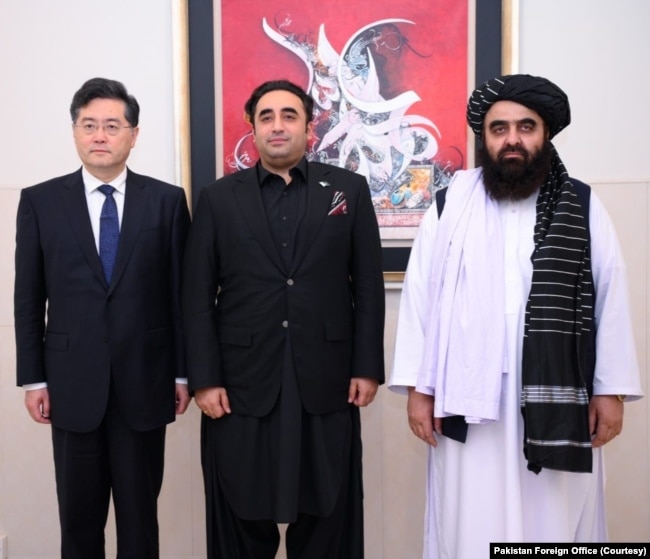 Beijing and Islamabad urged the Taliban delegation to conduct counterterror actions against terrorist groups operating on Afghan soil and threatening regional security.

"We will not allow anyone to use the soil of Afghanistan against others. We have been successful in our resolve, and we will remain committed to this pledge in the future that Afghan soil is not used against anyone," responded Muttaqi while speaking at Monday's seminar in the Pakistani capital.

Pakistan issued a joint statement Monday about the three-nation talks, saying the participants resolved to deepen and expand their cooperation in the security, development, and political domains.

They also stressed the need for the Taliban to stop militant groups, including the outlawed Tehrik-e-Taliban Pakistan or TTP and the Eastern Turkistan Islamic Movement, or ETIM, from using Afghan soil to threaten neighboring countries.

TTP and ETIM have been waging deadly attacks, respectively, in Pakistan and China from their alleged sanctuaries in Afghanistan.
The Chinese and Pakistani delegates agreed at the meeting to enhance support for the Taliban government in the economic reconstruction of the war-torn country.
The joint statement said the three countries reaffirmed "their commitment to further the trilateral cooperation under the Belt and Road Initiative (BRI), and to jointly extend the China-Pakistan Economic Corridor (CPEC) to Afghanistan."
The CPEC is a multibillion-dollar extension to Pakistan of China's global BRI infrastructure development project.
Chinese investment of more than $20 billion has built new roads, power plants, and ports in Pakistan to help improve its economy, linking the two allied nations through the corridor to give China access to international markets through the Arabian Sea deep-water Pakistani port of Gwadar.
The Chinese-developed and run port is expected to further facilitate trade and transit activities to and through landlocked Afghanistan to Central Asian countries.
Source: voanews