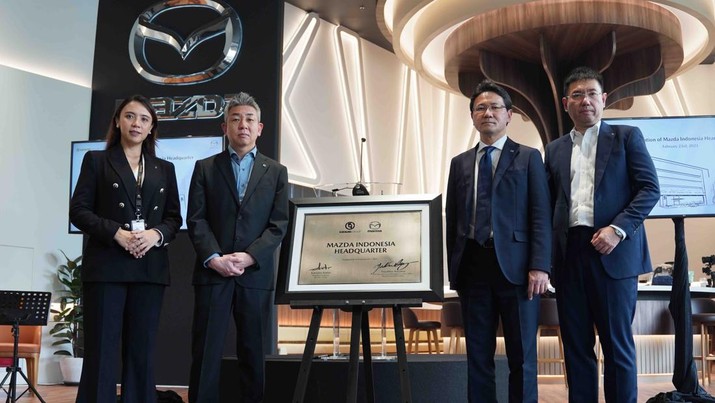 Photo: Doc Mazda Indonesia
Jakarta, CNBC Indonesia – PT Eurokars Motor Indonesia (EMI), the Sole Agent Brand Holder (ATPM) and the exclusive distributor of Mazda, together with Mazda Corporation inaugurated a new head office in Indonesia. Mazda Indonesia Headquarter is located at Jalan Teuku Nyak Arief No.9D, South Jakarta, on Thursday (23/2).
Managing Director of Eurokars Motor Indonesia, Ricky Thio said the presence of the Mazda Indonesia Headquarter was a form of his commitment to be closer to all customers.
"Eurokars Motor Indonesia hopes that this can help expand Mazda's sales reach and provide the best service to all Mazda lovers in Indonesia," he said in a press statement, Friday (24/2/2023).
Standing on an area of ​​2,728 square meters, Mazda Indonesia Headquarter has a building area of ​​6,745 square meters consisting of 5 floors. This Mazda Headquarter actually takes advantage of the location of the Mazda Simprug dealer building, which has been completely overhauled for the needs of their head office.
The renovations carried out in the office and showroom area were carried out with a minimalist Japanese concept to reinforce the premium quality of the Mazda brand. Apart from being an office and showroom, Mazda Headquarter also serves sales, maintenance, purchase of spare parts, and special merchandise in the Mazda Curated section.
In addition, Mazda Indonesia Headquarter also has an integrated service center equipped with 3S (Sales, Services, and Spare Parts) where the renovation process also focuses on improving its services for Mazda Simprug customers.
These service improvements include, first, the My Mazda Experience application which is useful for providing convenience in Mazda after-sales services, especially the process of ordering routine service schedules.
This application is also available on tablets that can be used by all visitors to enjoy various kinds of entertainment such as YouTube, Spotify, Netflix, and so on while monitoring the ongoing car service process via CCTV.
Second, a change in concept and a complete renovation of the Showroom area to make it more chic and trendy. The showroom area contains up to 7 Mazda car displays, genuine accessories racks, merchandise stores and color charts, where the showroom area is connected to the Service Area.
Third, changes to the interior and facilities in the Customer Premium Lounge waiting room on the Mezzanine Floor with the concept of "Home Away From Home", which can provide an experience like at home and a sense of comfort while waiting for routine services.
On the same occasion, Marketing & Communications General Manager, Pramita Sari said that all the elements and features in this building are certainly inseparable from Mazda's philosophy, namely Jinba-Ittai , which can be interpreted as oneness between car and driver .
"This is also what Eurokars Motor Indonesia wants to implement, with the presence of this Headquarter being able to unite Mazda's relationship with its customers in Indonesia," he explained.
At the inauguration of the Mazda Indonesia Headquarter, EMI also presented the New Mazda CX-5 EMI 6th Anniversary Edition and the New Mazda6 20th Anniversary Edition which were previously presented exclusively in early 2023.
Source: CNBC